Getting Started with Auto-Discovery
Contents
The follwoing is a brief run down that covers how-to quickly enumerate network objects with Device42 Autodiscovery.
Creating Subnets

All discovered IP addresses will be placed in their respective subnets if subnets have been pre-defined. Otherwise, IPs end up in an "undefined" subnet.
Go to IPAM > Subnets, click on +Add Subnet on the top right corner.
The required fields are Name, Network and mask bits. Others are optional. The begin and end range are automatically calculated based on network and bits if left empty.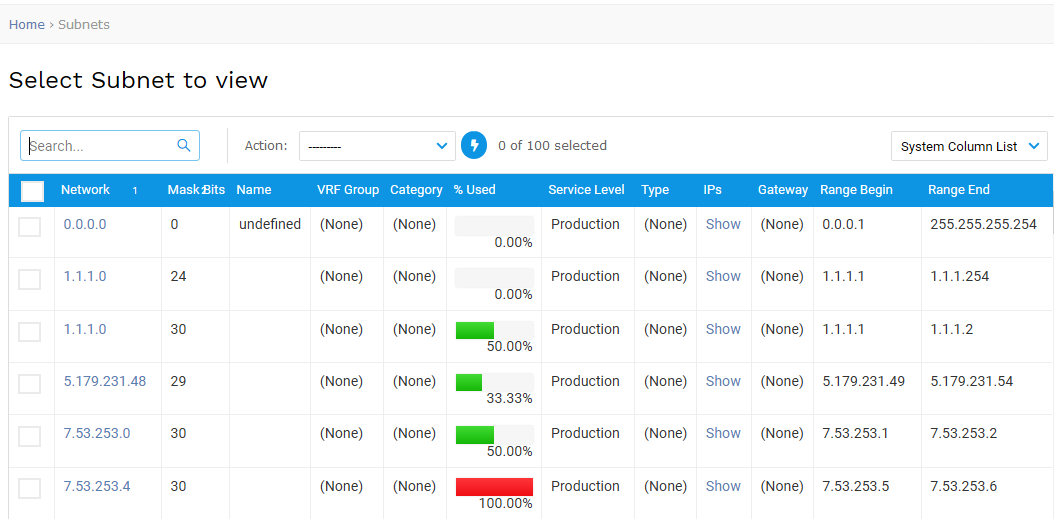 Installing and Running Auto-Discovery Client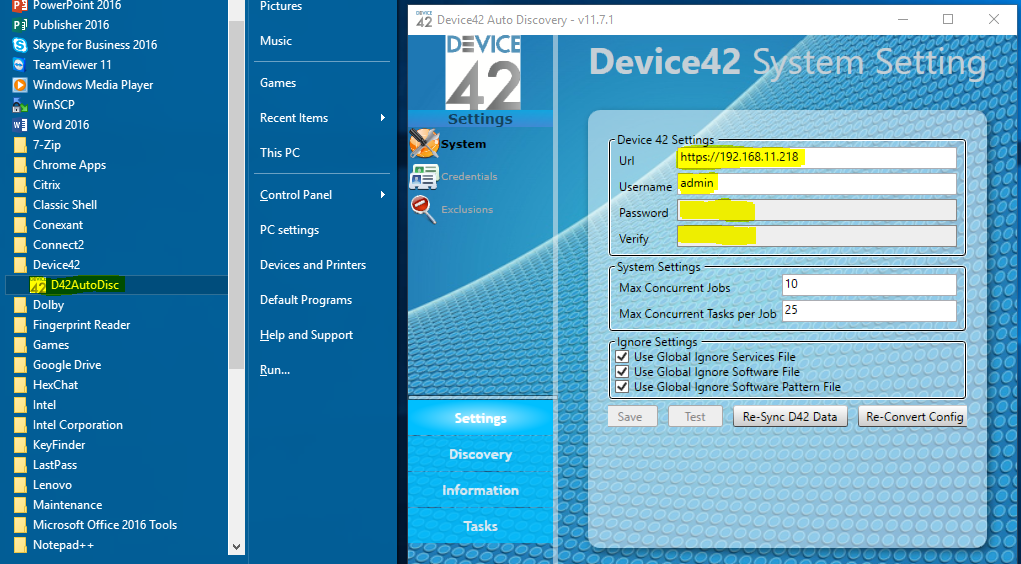 The easiest way to enumerate Windows and Linux devices on the network is to use the .NET based auto-discovery client available for download at Device42 auto-discovery page.
As of Device42 v14 and newer, Remote Collectors are capable of running all discoveries from within the Device42 UI itself, including WMI discoveries as long as the WDS service has been configured. See the next topic below for instructions on setting up the WDS (Windows Discovery Service), "Setting up WDS and RC for Windows Discovery from the UI".
The installation is simple. Once you have it installed, run it from Start > All Programs > Device42 > D42AutoDisc.exe
Add the URL and the credentials for your Device42 appliance to the settings tab, and head over to the Windows and Linux tab to configure discovery.
Simply enter the IP range (or server names), credentials (if required), and start the discovery!
The Linux tab requires you enter a username and password, and the Help tab has brief tips around this. See the Documentation page for the Device42 auto-discovery client [or for the remote collector] for more information.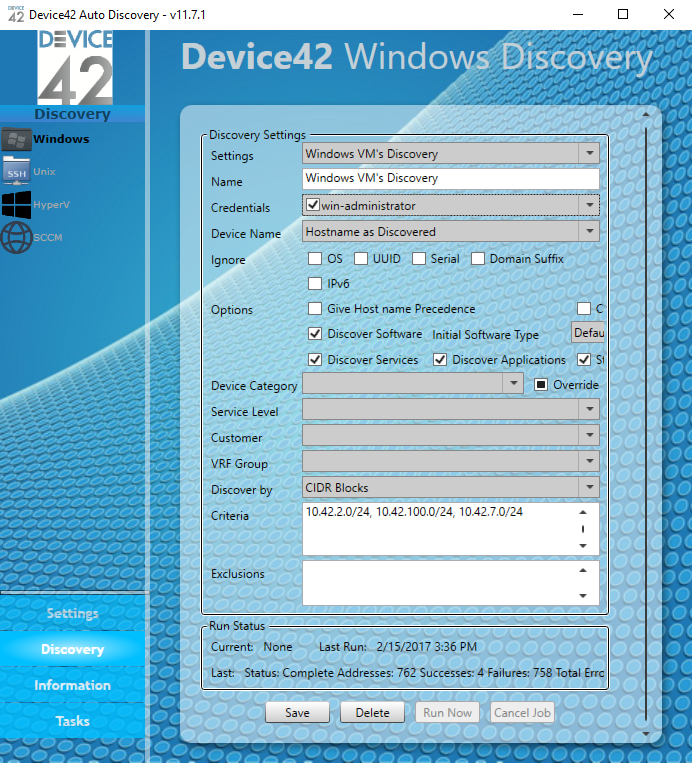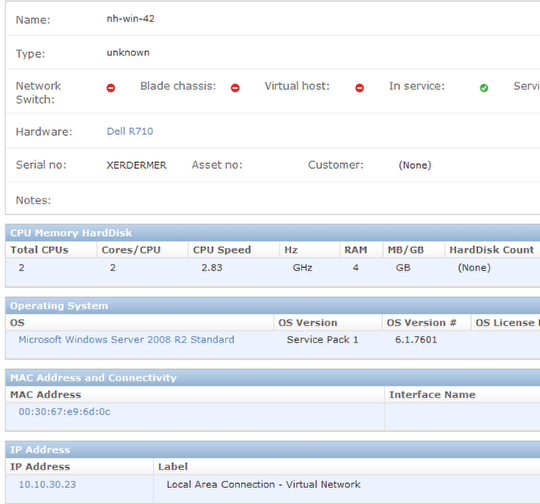 Same screen in the new UI: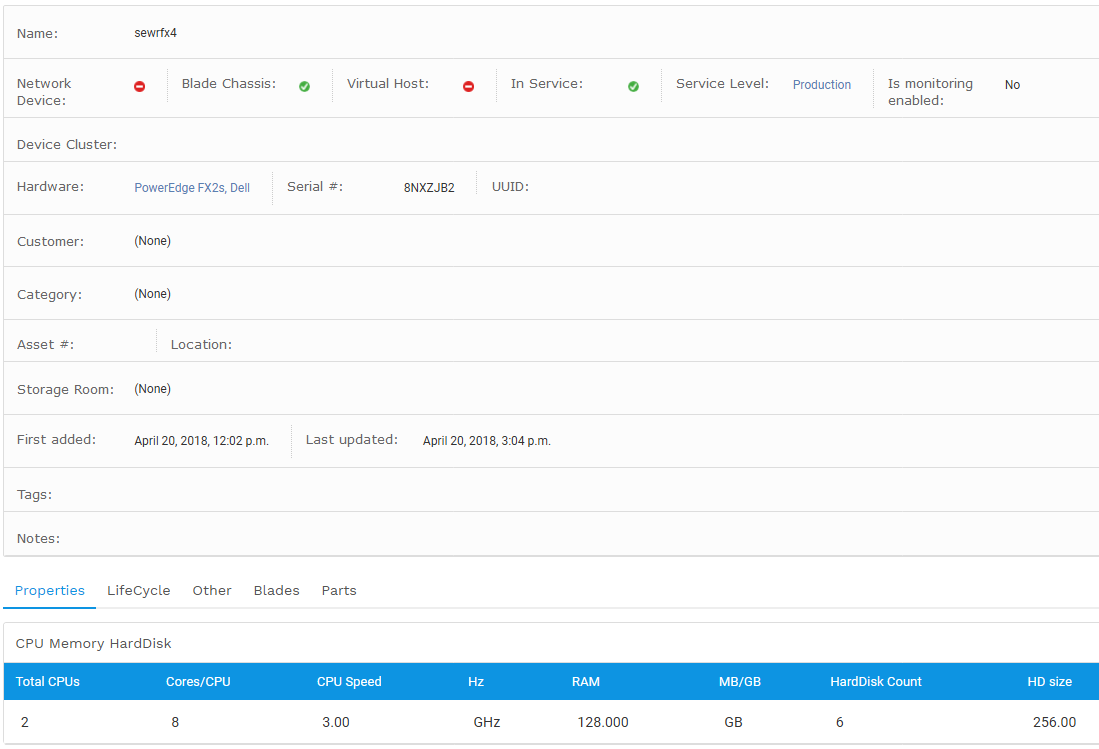 Device details like name, hardware model,serial #, CPU & RAM info, OS, MAC and IP info are populated depending on what is discovered.
Dealing with device type "unknowns"
Any devices that are not virtual will come over as device type "unknown" initially. The reason is that the appliance has not been told whether the hardware belongs to the physical, blade or other category.
The following device types have a hardware model. Each hardware model can be one of 3 types: regular, blade or other.
Regular: is for physical devices.
Blade: is for blade devices.
Other: is for other devices like laptops, workstations, network printers etc.(that are not rack mounted).
Once you change a hardware type, all the corresponding devices that refer to that hardware and are type unknown, will automatically be categorized accordingly.
The "Bulk hardware edit" feature allows changing hardware properties in bulk for all undefined hardware types and it will automatically categorize all devices belonging to it. See the Bulk Edit YouTube videos or Bulk edit documentation for more information!
Also, once a hardware type is defined, any new imported or discovered devices will go into the right category.