Device42 ServiceNow Connector
Contents
The Device42 ServiceNow Connector enables ServiceNow users to seamlessly add Device42's IT infrastructure management capabilities to their ServiceNow solution.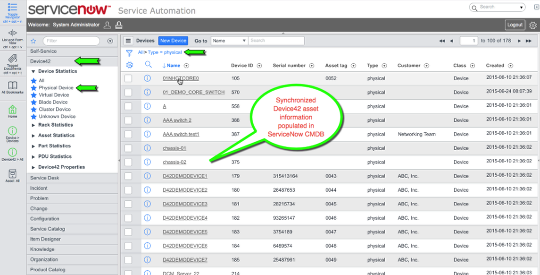 Using the Device42-ServiceNow integration connector, ServiceNow users can synchronize Device42's enhanced asset management and tracking capabilities to their ServiceNow IP-enabled configuration items (CI) data maintained inside ServiceNow's Configuration Management Database (CMDB). This synchronization can be manually refreshed at any time by the user and also scheduled for automatic refresh at user-defined intervals.
View/Edit CI Details from ServiceNow Requests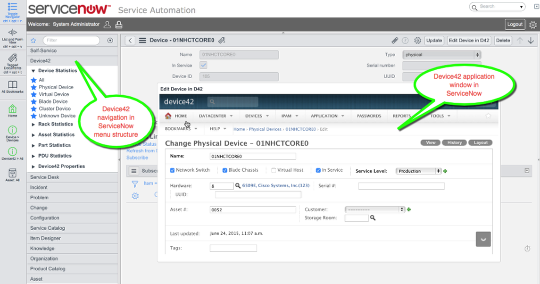 In addition, the Device42-ServiceNow integration enables the creation of ServiceNow navigation controls that seamlessly create a Device42 application window from within the ServiceNow UI. This provides access to Device42's capabilities not found in the ServiceNow application while, at the same time, combining ServiceNow' s best-of-breed capabilities, such as workflow management, and IT trouble ticketing, not found in Device42.
Integration Steps
Device42 and ServiceNow integration is easily accomplished using Device42 provided connector. With this connector, integration is a straightforward, easy process (details can be found here: https://docs.device42.com/external-integrations/
A summary of the integration process follows:
Establish and verify the ServiceNow Device42 connection
Install the integration code which establishes: a.) Respective asset tables for all the assets present in Device42 and b.) User interface Action buttons in ServiceNow for viewing, accessing, or synchronizing Device42 asset data with ServiceNow
The final step involves setting parameters for the automated synchronization between Device42 and ServiceNow
Accessing the ServiceNow Integration Connector
Device42 and ServiceNow clients can access the free connector on-line: https://www.device42.com/integrations/service-now/