Windows WinRM Auto-Discovery
Device42 supports WinRM-based Windows discovery from within the main appliance (v13.2+). WinRM is included and enabled by default on Windows Server 2008 and higher. It is an optional installation on Windows Server 2003.
Setting up WinRM Auto-Discovery
Prior to configuring a Windows WinRM autodiscovery job please be sure you have TCP ports 5985 and 5986 open between your Device42 Main Appliance or Remote Collector and the targetted Windows devices.
From Discovery → Hypervisors/nix/win*, you can add a WinRM discovery job to connect and gather host and VM details: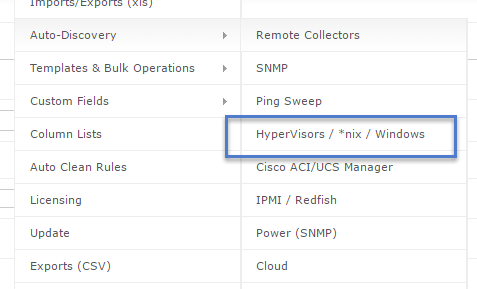 On the "Add Hypervisors/*nix/win for Autodiscovery" page, choose Windows (WinRM) as the platform. Other options are as follows:
URL Prefix: This will be https in most cases. But, if you have changed it, you have the option to switch it to http.
Server : This is the FQDN or IP of the vCenter server or the ESX server. If using FQDN, device42 should be setup for DNS resolution(vm console, option 1).
End IP Address : Optional, if doing discovery on a range of servers rather than a single server.
Port : This will be 5985 by default. Only change if you have changed it.
Username & password: self explanatory. Use username with permission to connect to the Windows targets with WinRM.
Strip domain suffix : Checking this will strip domain suffix from discovered servers.
Give Precedence to Hostname : Check this option to give precedence to the discovered hostname.
Debug Level : Debug On for extra debug info, useful for a support ticket.
There are a few other options that are geared toward hypervisor discovery and can be ignored for WinRM discovery.
Last status : Last run task status.
Run report: This will record what has changed in the last task.
Schedule for auto-discovery: You can schedule the discovery to run at certain times.
Run Windows WinRM discovery
Upon save(if you haven't scheduled the discovery), you can run it from list, view or edit page using "Run now" button or link.
Scheduling

You can schedule the auto-discovery to run on a recurring basis. Specifically, you can choose to have it run on certain days of the week and at a specific time each day.