Network Auto-discovery
Contents
The following steps explain configuring & running SNMP discovery against your network.
Please see our list of vendors supported by Device42 for SNMP autodiscovery for a full list of hardware vendors and let us know if you had a device that needs additional support.
What can be auto-discovered using SNMP?
Network devices can be discovered using SNMP v1, v2c, or v3.
CDP/LLDP neighbors can be discovered as well. SNMP credentials should be same for all neighbors for auto-discover to run successfully on neighbors. Otherwise, you can add devices with different credentials separately as another device for discovery.
Depending on device type and compatibility matrix linked above, the following data is discovered:
- Switch inventory: Switch name, serial #, model and manufacturer.
- Stacked switches: For stacked switches, it will add the stack as cluster device and all physical devices as part of cluster.
- Access Points : Access points will be added as device type other with Controller device as the device host.
- VLANs : L2 vlans.
- Subnets: L3 subnets.
- Switch IP and MAC address : IP address and MAC address belonging to the switch.
- IP to MAC address association: Basically the ARP table, if available. So all IPs that are available with MAC association.
- MAC address to switch port association: Switch ports and mac addresses found on that port. (MAC table)
MAC to switch port association brings only switch ports that have MAC addresses associated. Using "Get all switch ports" option you can get:
- Switch port name.
- Switch port description.
- Switch port up/down status.
- Switch port administratively up/down status.
- Remote switch port connectivity, if any.
Adding/editing a network device for SNMP discovery.

Go to Tools > Auto-discovery > Network to add a new network auto-discovery job.
IP Address: Enter the IP address of a switch or an IP range.
Port: Leave at 161 if you are unsure
SNMP Version: Choose SNMP v1, v2c, or v3
Community String: Enter community string for v1 or v2c. See below for v3.
Run Autodiscover on CDP/LLDP Neighbors: Find all CDP/LLDP neighbors that are reachable.
Strip Domain Name: Strip domain name from discovered switch name.
Get all Switch Ports: Retrieve all switch ports.
Delete Switch Ports Not Found: Delete any switch ports in Device42 that were not found in this discovery.
Use Alias/Name for port description: Choose if you prefer the Alias/Name for the port description.
Delete older mac association after: Delete any mac addresses not found for the specified number of days.
SNMP v3

Choosing SNMP v3 changes the form to get values for SNMP v3 credentials.
Note on Cisco Nexus 7K switches
The user for SNMP v3 auto-discovery may need to be in the network-operator / vdc-operator group.
Note on Huawei Switches
By default, some Huawei devices ship with LLDP via SNMP off. You must switch it on by creating a new 'mib-view' and attaching the 'ISO tree' containing the LLDP MIB to the community. Consult the Huawei documentation for complete setup & management details.
Get all switch ports

If "get all switch ports" is selected, you will see 6 extra form items:
Port name prefix to ignore macs: Ignore mac addresses from port that start with this prefix.
VLANs to ignore : Do not discover mac addresses on these VLANs.
Give precedence to hostname: Check this option to give precedence to the discovered hostname in the network device discovery.
Delete older mac association after: To keep your mac addresses and switch port connectivity up-to-date leave this at 0. This will delete all stale mac addresses not discovered on switch port anymore. Otherwise, you can choose the # of days after you want to delete the stale mac association with a switch port.
Discovered port types to ignore: You might not want to see certain ports types in your switch port list. Here you can choose what port types to ignore. For first time:

You will have to let it find the port types first time,
and if you want to ignore some, you will have to delete the switch ports manually(you can filter by discovered type on IPAM > Switch Ports),
add the ports to ignore list on the discovery page

Discovered port types not to count: Similar to above. This will still bring the ports in, but selected port types will not be included in the count.
Scheduling

You can schedule the auto-discovery to run on a recurring basis. Specifically, you can choose to have it run on certain days of the week and at a specific time each day.
Status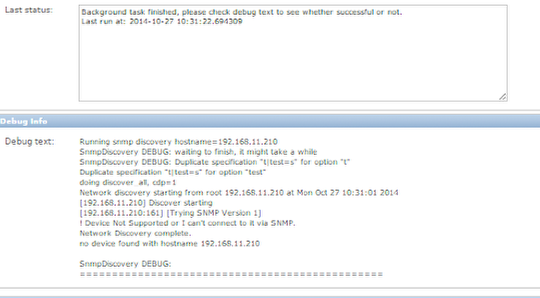 You will see status information after each execution of the job.
Run network discovery

Once you have saved the network switch for auto-discovery, you will need to kick off the auto-discovery process. If not scheduled, you can click on "Run now" button on list, view or edit page.